COSSA Members | Join COSSA
---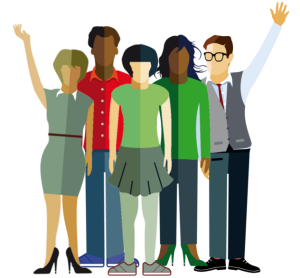 Join the effort to promote social and behavioral science research by becoming a member of COSSA today!
As a COSSA member, your organization/institution will receive:
Click here to learn more about the benefits of COSSA membership.
In addition, your organization/institution will be part of a broad community advocating for shared goals and enjoy access to COSSA expertise for timely policy information.
COSSA membership is institutional and includes two main categories: Governing Members and Non-Governing or Affiliate Members.
Governing Membership
Governing membership is intended for associations in the social and behavioral sciences that are comprehensive in scope, are membership societies that represent research scholars, have rotating leadership, and are 501(c)(3) corporations. "Comprehensive" associations are expected to have following characteristics:
They are a national association for the discipline or field.
They represent a relatively large number of the professional scholars in their discipline or field as measured by membership, meeting size, or similar indicators.
They have the resources to act in support of COSSA goals and initiatives.
Governing Member associations each have one (1) seat on the COSSA Board of Directors and are involved in the overall governance of the organization.
New Governing Members are voted into the association by a vote of the Board of Directors. A fair-share dues model is used to set annual Governing Member dues.
Contact the COSSA Executive Director to inquire about membership at the Governing Member level.
Non-Governing Membership
Non-Governing categories of COSSA membership include: Membership Organizations, Research Centers & Institutes, and Colleges & Universities. The list of current Non-Governing Members can be found here.
Dues for Membership Organizations and Centers & Institutes are set according to the amount of expenses reported on an organization's IRS form 990 (subtracting line 13 from line 18). The 2017 dues schedule for member organizations is shown below.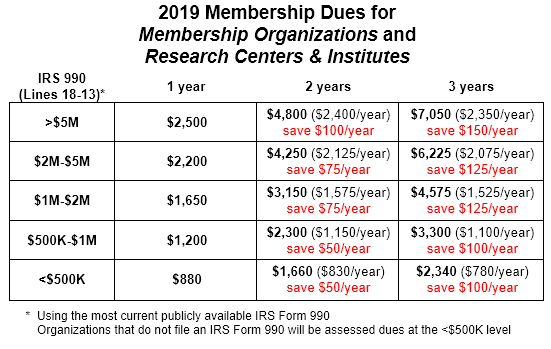 Dues for Colleges & Universities are based on the amount of annual federal grant funding received for social and behavioral science research according to federally-collected data:

Contact the COSSA Executive Director to inquire about Non-Governing membership.