Studies of the United States scientific workforce repeatedly and consistently show that ethnic and racial minorities are underrepresented across all science disciplines. In 2007, an interdisciplinary group of professional associations and scientific societies, led by COSSA, began working together to draw attention to the need to enhance diversity in the sciences. In 2008, that informal coalition held a leadership retreat,
"

Enhancing Diversity in Science: A Leadership Retreat on the Role of Professional Associations and Scientific Societies

,
" which focused on the need to broaden participation in the sciences and brought together 98 leaders from 37 professional associations, and scientific societies, as well as representatives from univ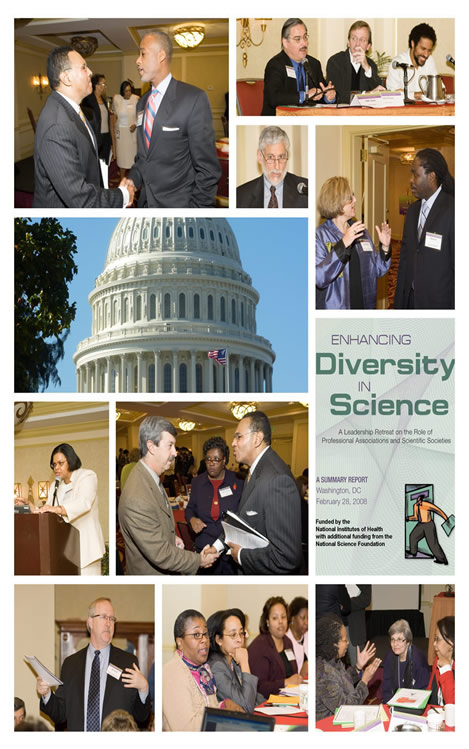 ersities, federal agencies, and private foundations. The overwhelming consensus from that meeting warned that if the United States is to remain the world's leader in science it must respond to a number of critical challenges. The organizations responsible for conceptualizing and implementing the groundbreaking meeting included: AAAS Center for Careers in Science and Technology, the American Educational Research Association (AERA), the American Sociological Association (ASA), the American Psychological Association (APA), the Association of American Medical Colleges (AAMC), the Federation of American Societies for Experimental Biology (FASEB), the Institute for the Advancement of Social Work Research (IASWR) and the Society for Research in Child Development (SRCD).    In 2009, the groups,  formalized their partnership, creating the
Collaborative for Enhancing Diversity in Science (CEDS) coalition. 
In 2012, CEDS held its second workshop, 
Enhancing Diversity in Science: Working Together to Develop Common Data, Measures and Standards (Executive Summary

 /

 Full Report )
, which addressed the need to establish a more comprehensive and cohesive effort to track the many and various efforts of government, university, private foundations and associations to enhance minority participation in the sciences.
 Read more about CEDS' activities
. . .
---