After weeks of tense negotiations, Congressional leaders reached an agreement on a coronavirus aid package and legislation to fund the government through the end of fiscal year (FY) 2021. The appropriations agreement largely provides flat funding or modest increases to social science agencies, unsurprising given the strains placed on the federal budget by the pandemic. COSSA will release a full analysis of the funding bills for social science agencies later this week. In the meantime, top-line funding for agencies important to the social and behavioral sciences are provided in the chart below. COSSA's complete coverage of FY 2021 funding can be found here.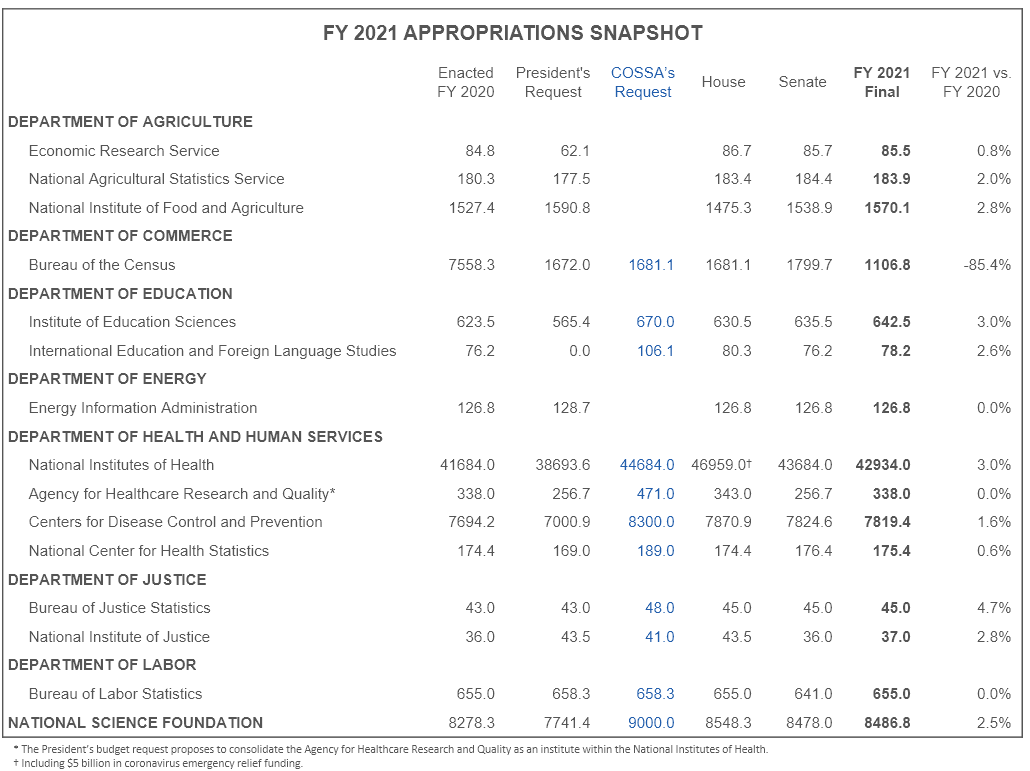 The $900 billion COVID relief package includes direct payments for individuals meeting certain income thresholds, extension of unemployment benefits, support for small business through the Paycheck Protection Program, among many other priorities. Notable for the social science community is $22.7 billion for the Higher Education Relief Emergency fund to help universities defray the costs associated with the pandemic and provide financial assistance to students. In addition, the bill includes $28 million for use through FY 2022 to support pandemic-related costs related to administering the National Assessment of Educational Progress (NAEP), administered by the National Center for Education Statistics (NCES) within the Institute of Education Sciences (IES). NAEP has been postponed amid the educational upheaval caused by the pandemic.
Within the Department of Health and Human Services (HHS), the agreement provides $8.75 billion in supplemental funding for the CDC for use through FY 2024 to "plan, prepare for, promote, distribute, administer, monitor, and track coronavirus vaccines to ensure broad-based distribution, access, and vaccine coverage." The National Institutes of Health (NIH) is to receive $1.25 billion for use through FY 2024 to support research and clinical trials related to the long-term effects of COVID-19, as well as continued support for expanding and improving COVID-19 testing.