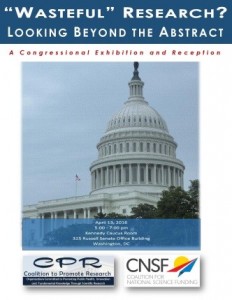 On April 13, the COSSA-led Coalition to Promote Research (CPR) and the Coalition for National Science Funding (CNSF) sponsored a Congressional exhibition and reception, "Wasteful" Research? Looking Beyond the Abstract, designed to provide researchers whose work had been targeted in the various Congressional "wastebook" publications an opportunity to put their research into context for Members of Congress and their staff. The unique Congressional exhibition and reception featured nine researchers from across the disciplinary spectrum. Also presented were posters on the peer/merit review process by National Institutes of Health (NIH) and the National Science Foundation (NSF).
Participating researchers included: Aletha Akers, Children's Hospital of Philadelphia; Karen Ingersoll, University of Virginia School of Medicine; Jeff Leips, University of Maryland Baltimore County; Frederick Muench, Northwell Health, New York; Sheila Patek, Duke University; Kimberley Philips, Trinity University; Narayan Sastry, University of Michigan; David Scholnick, Pacific University, Oregon; and Megan Tracy, James Madison University. Joshua Shiode of AAAS provided information on the Golden Goose Awards along with this year's first announced recipients of the 2016 award for the Longitudinal Study on Adolescent Health, recently renamed the Longitudinal Study on Adult Health (Add Health).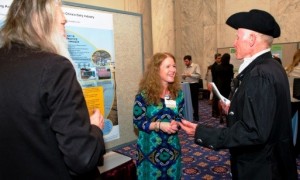 The projects exhibited, with the exception of Leips and Sastry, have been targeted in so-called "wastebook" publications by members of Congress or tagged with that label in media stories. The poster session also provided an opportunity for the event sponsors to demonstrate the value of the review and priority-setting processes under which they were funded. While projects in the various scientific disciplines have been labeled wasteful, many have later proven to be innovative, as explained by CPR co-chairs Angela Sharpe (COSSA) and Patricia Kobor (APA) in an interview with Social Science Space.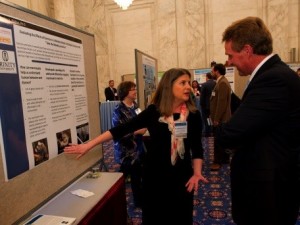 Senator Jeff Flake (R-AZ), author of a Congressional wastebook, attended the event. Flake shared his experience with the Huffington Post: "This has been enlightening, and we want to make sure we are accurate. It is a learning process," he said. Read the full article here.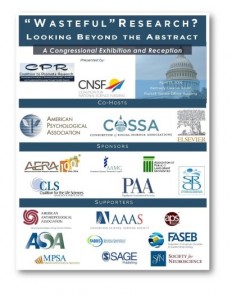 In addition to COSSA, the event was co-hosted by the American Psychological Association and Elsevier. Additional COSSA-member organizational sponsors and supporters included the American Educational Research Association, Population Association of America, Society for Research in Development, American Anthropological Association, American Sociological Association, and the Midwest Political Science Association.