The National Institutes of Health (NIH) recently issued a time-sensitive Request for Information (RFI) (NOT-OD-15-118) inviting comments and suggestions on the framework for its congressionally-mandated NIH-wide Strategic Plan. NIH is requesting feedback by August 16, 2015. The agency also plans to host webinars in early to mid-August to gather additional input.
NIH Deputy Director Larry Tabak presented the agency's first iteration of its draft plan at the June 11 meeting of the NIH Advisory Committee to the Director (ACD) (see Update, July 14, 2015). At the July 20 meeting of the ACD, Tabak presented a revised draft framework incorporating the feedback it received from Committee members, including recommendations to keep the plan short, approximately 10 pages; make it inspirational and forward looking; integrate cross-cutting themes, and accentuate needed flexibility and nimbleness. The revised framework includes areas of opportunity that apply across biomedicine. Tabak explained that each area of opportunity will include a "succinct description of emergent opportunities" and will highlight specific examples of recent breakthroughs.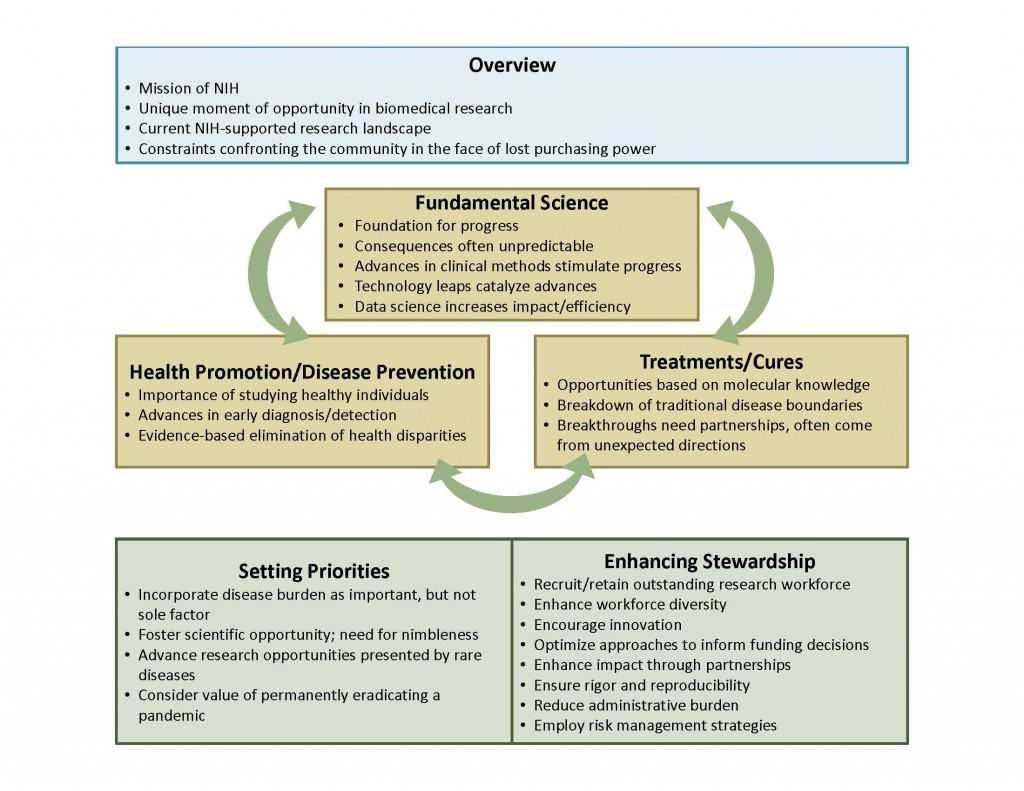 NIH-wide Strategic Plan Framework
The first section of the plan will consist of an overview that will articulate the "NIH mission, the status of and opportunities in biomedical research, the current NIH-supported research landscape (i.e., basic and applied research, extramural and intramural research, [Institutes, Centers, and Offices] (ICOs) with their own strategic plans, Common Fund, challenges), and constraints confronting the community in the face of lost purchasing power."
A second section will address areas of opportunity:
Promoting Fundamental Science
Basic Science is the foundation for progress
Consequences of basic science discoveries are often unpredictable
Advances in clinical research methodologies stimulate scientific progress
Leaps in Technology often catalyze major scientific advances
Data science increases the impact and efficiency of research
ImprovingHealth Promotion and Disease Prevention
Importance of studying healthy individuals
Advances in early diagnosis/detection
Evidence-based interventions to eliminate health disparities
Advancing Treatments and Cures
Unprecedented opportunities on the basis of molecular knowledge
Breakdown of traditional disease boundaries
Breakthroughs need partnerships and often come from unexpected directions
A third section is expected to address the unifying principles and will form the Plan's "objectives" which must be accomplished to achieve the goals of the plan.
Request for Information
NIH is seeking comments on the following areas:
Potential benefits, drawbacks/challenges, and areas of consideration for the current framework
Compatibility of the framework with the broad scope of the NIH mission.
Additional concepts in the ICOs strategic plans that are cross-cutting and should be included in this trans-NIH strategic plan.
Comprehensive trans-NIH research themes that have not been captured in the Areas of Opportunity that Apply Across Biomedicine.
Components of the Areas of Opportunity that Apply Across Biomedicine not applicable to an NIH-wide Strategic Plan.
Comments can be provided via the NIH RFI submission site. Tabak encourages "stakeholder organizations (e.g., patient advocacy groups, professional societies) to submit a single response reflective of the views of the organization/membership as a whole."