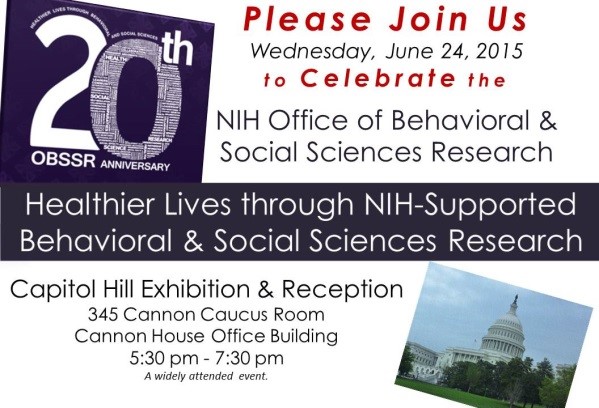 The past two decades have seen increasing recognition of the importance of behavioral and social factors in the prevention and treatment of disability and disease.  OBSSR's mission is to stimulate behavioral and social sciences research throughout NIH and to integrate these areas of research more fully into the NIH health research enterprise, thereby improving our understanding, treatment, and prevention of disease.
Please join the Coalition for the Advancement of Health through Behavioral and Social Sciences Research (CAHT-BSSR) to celebrate the 20th Anniversary of the NIH Office of Behavioral and Social Sciences Research with a poster exhibition and reception featuring research supported by NIH institutes, centers, and offices.
June 24, 2015
345 Cannon House Office Building
5:30 pm – 7:30 pm
RSVP here or via http://goo.gl/forms/FhfiqCzCuk.
For questions or more information contact:  Angela Sharpe (alsharpe@cossa.org) or Patricia Kobor (pkobor@apa.org)
Participating NIH Institutes, Centers, and Offices
Center for Scientific Review (CSR)
Fogarty International Center (FIC)
National Cancer Institute (NCI)
National Eye Institute (NEI)
National Heart, Lung, and Blood Institute (NHLBI)
National Human Genome Research Institute (NHGRI)
National Institute on Aging (NIA)
National Institute on Alcohol Abuse and Alcoholism (NIAAA)
National Institute of Arthritis and Musculoskeletal and Skin Diseases (NIAMS)
Eunice Kennedy Shriver National Institute of Child Health and Human Development (NICHD)
National Institute of Dental and Craniofacial Research (NIDCR)
National Institute of Diabetes and Digestive and Kidney Diseases (NIDDK)
National Institute of Mental Health (NIMH)
National Institute on Drug Abuse (NIDA)
National Institute on Minority Health and Health Disparities (NIMHD)
National Institute of Nursing Research (NINR)
Office of Behavioral and Social Sciences Research (OBSSR)
Office of Disease Prevention (ODP).