---

COSSA co-leads the Coalition to Promote Research (CPR), a coalition of national organizations committed to promoting public health, innovation and fundamental knowledge through scientific research. The  organizations represent hundreds of thousands of scientists, physicians, health care providers, and patients who support federal investments in basic and applied biomedical and behavioral research.
 Activities
Sen. Flake responds to CPR co-chair about federal research funding
Recorded exchange captures controversy over "wastebooks"
Sen. Jeff Flake (R-AZ) announced the release of his latest "wastebook" at a Washington press conference on Jan. 10, 2017.   The document – titled "Porkemon Go" – lists what Flake believes to be examples of wasteful government spending, including federally funded research projects.
At the press conference, Pat Kobor of the American Psychological Association's Science Government Relations Office and CPR co-chair, raised the concern that such wastebooks misrepresent the research supported by the National Institutes of Health and other federal agencies.  Together, Kobor's comments and Flake's response (see video) capture much of the current debate surrounding wastebooks – a debate that may become more heated as Congress and the new administration proceed with budget deliberations this year.  Watch the video. (Source: APA Science Government Relations News Update)
---
"Wasteful" Research? Looking Beyond the Abstract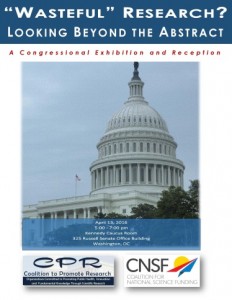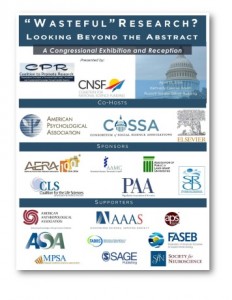 Huffington Post: Here's What Happened When A Group Of Scientists Went To Confront Their Congressional Tormentors
Psychological Science Agenda: Capitol Hill event brings scientists together with the policymakers who labeled their research "wasteful"
COSSA Washington Update: Researchers Discuss Projects Targeted by Wastebooks at Capitol Hill Poster Exhibition
Event Program: "Wasteful" Research? Looking Beyond the Abstract – Congressional Exhibition and Reception  | April 13, 2016
---
September 22, 2015, Congressional Briefing – NIH  Priority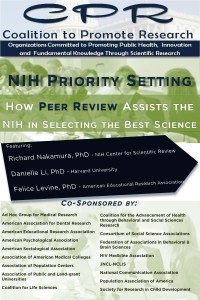 Setting:  How Peer Review Assists the NIH in Selecting the Best Science   | more
February 27, 2015, Congressional Briefing
–  NIH 101: Peer Review & Priority Setting | slide presentation | 
more
---
About CPR
Principles of Scientific Integrity
Priority Setting at the National Institutes of Health
The NIH Peer Review Process (PDF)
For more information about CPR, contact its co-chairs:                      
Angela L. Sharpe, MG – alsharpe at cossa.org or (202) 842-3525
Patricia Kobor, MA  – pkobor at apa.org or (202) 336-5933
Steering Committee
---
Coalitions | CPR | CAHT-BSSR | CEDS