---

COSSA co-leads the Coalition to Promote Research (CPR), a coalition of national organizations committed to promoting public health, innovation and fundamental knowledge through scientific research. The  organizations represent hundreds of thousands of scientists, physicians, health care providers, and patients who support federal investments in basic and applied biomedical and behavioral research.
 Activities
---
"Wasteful" Research? Looking Beyond the Abstract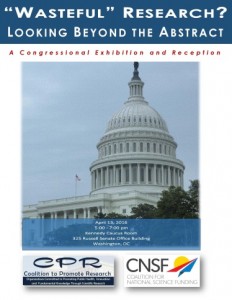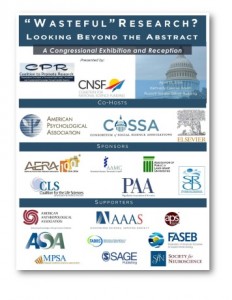 Huffington Post: Here's What Happened When A Group Of Scientists Went To Confront Their Congressional Tormentors
Psychological Science Agenda: Capitol Hill event brings scientists together with the policymakers who labeled their research "wasteful"
COSSA Washington Update: Researchers Discuss Projects Targeted by Wastebooks at Capitol Hill Poster Exhibition
Event Program: "Wasteful" Research? Looking Beyond the Abstract – Congressional Exhibition and Reception  | April 13, 2016
Peer/Merit Review
Richard Nakamura, National Institutes of Health
Alan Tomkins, National Science Foundation
Participating researchers included:
Aletha Akers, Children's Hospital of Philadelphia
Karen Ingersoll, University of Virginia School of Medicine
Jeff Leips, University of Maryland Baltimore County
Frederick Muench, Northwell Health, New York
Sheila Patek, Duke University
Kimberley Philips, Trinity University
Narayan Sastry, University of Michigan
David Scholnick, Pacific University, Oregon
Megan Tracy, James Madison University
Joshua Shiode of AAAS provided information on the Golden Goose Awards along with this year's first announced recipients of the 2016 award for the Longitudinal Study on Adolescent Health, recently renamed the Longitudinal Study on Adult Health (Add Health).
---
September 22, 2015, Congressional Briefing – NIH  Priority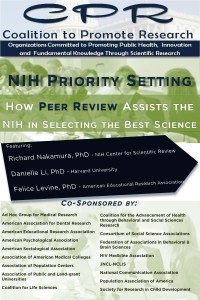 Setting:  How Peer Review Assists the NIH in Selecting the Best Science   | more
February 27, 2015, Congressional Briefing
–  NIH 101: Peer Review & Priority Setting | slide presentation | 
more
---
About CPR
Principles of Scientific Integrity
Priority Setting at the National Institutes of Health
The NIH Peer Review Process (PDF)
For more information about CPR, contact its co-chairs:                      
Angela L. Sharpe, MG – alsharpe at cossa.org or (202) 842-3525
Patricia Kobor, MA  – pkobor at apa.org or (202) 336-5933
Steering Committee
---
Coalitions | CPR | CAHT-BSSR | CEDS